Getting Your Order Ready
We carefully pack each order placed before 10am to be shipped the day it was ordered. Orders placed after 10am will be shipped the following business day.
If we are out of stock of your requested product, we will notify you via email, and/or phone.
Cakes: Chocolate Layer Cake, Flourless Chocolate Cake, Chocolate Chip Almond Cake

All of our cakes are shipped frozen with ice packs. Cakes will be shipped to arrive the day after they leave our shop. Instructions on unpacking and storing your cake will be included. Because weekends can be unpredictable, we only ship cakes Monday-Thursday. If you would like a personalized message on top of your cake, please provide information in the "comments" section at check out. We'll do our best to accommodate your request!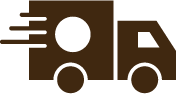 Chocolate on the way...
We take a lot of care in shipping your order. We will check the weather across the shipping range, and the shipping method you choose to make sure we are shipping optimally. If we feel changes need to be made on shipping methods, we will notify you via email, and/or phone. Once shipped, you will receive your tracking number. Please provide a U.S. street address. We cannot deliver to P. O. Boxes. We will do our best to ship your pacakge as requested, however, there are some factors beyond our control. We are not responsible for FedEx/UPS delays due to weather, mechanical failures, or other factors beyond their control. Should something unexpected happen, we'll connect with you, and find a suitable resolution!
Additional charges may apply to certain destinations that are not reflected in our estimated rate from our site. In the event that the actual UPS shipping charge is higher than the estimated rate quoted from our website, a member of our shipping team will contact you to discuss the final shipping rate prior to shipment.
We recognize shipping charges may be high to distant regions of the U.S. from the NYC area. We are a small business, passing on the actual UPS charges as they apply to us. It is our hope that as we grow our business, we will be entitled to discounted shipping rates and be able to pass those rates along to you. We thank you for supporting our business!
Testimonials
"Thanks so much to The Chocolate Room for our cake! It arrived as quickly as promised; carefully and thoughtfully packed and in beautiful condition.The texture and flavor were as wonderful as having it at your shop! Your amazing chocolate cake, and the personalization, made our celebration complete. Thanks!"
LM